The

Losing Weight without

Dieting Program Homestudy
Business Owner
"I had a great time with my brownie. I went for the Mindful Eating exercise. And I would never have imagined in a million years that I actually would be satisfied not finishing my brownie. And because I ate it so slowly, I really felt the point at which if I ate another bite, I would feel sick. And I never would have gotten to that point until it was way too late before and if I would have had like two or three and then I would have felt sick and so I stopped right before that bite which my body said "I know you're not gonna want that. You're not going to be happy if you eat it." And so I never in my life scraped any, you know brownie into the garbage. And then I felt really sane around the tray. Like I said, I must have passed it a couple of hundred times and the rest of the tray and only two or three times did I even take like a quarter to a third of a brownie and that was only because that's what I wanted, because I knew I could have more. And I sat down and I ate it slowly and I was satisfied. So that was different. That was very different for me." 
Restaurant Owner
"My husband and I have a diner and one of the things I always do is grab, you know, a strudel, or grab a big chocolate chip cookie. And what I do is I cut it in half and throw the rest away because I know otherwise I'll eat the whole thing. Well, this time I took the whole cookie, a big chocolate chip cookie, and I always have my coffee, and I got in the car and as I'm been driving home it was like a 20 minute ride. And as I'm driving home, I'm eating the cookie but I'm using that conscious eating and tasting the chocolate chips and tasting the dough which really tasted kind of icky and I ate half the cookie and never ate the rest. In fact, it's probably still in the front seat of my car."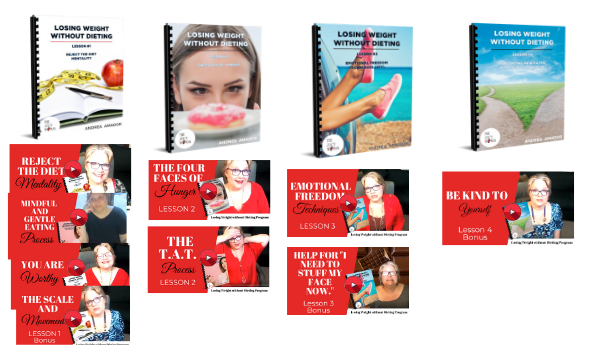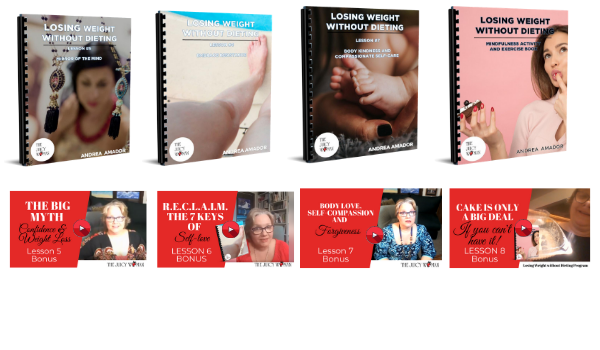 It's almost like I don't want to waste my hunger on something unless it's absolutely wonderful! It is surprising how much food is either bland, oversweet, or artificial once you taste it properly.
"I always used to struggle with feeling compelled to take food in the car with me when I was driving, even for short distances. After working with you for a short session I have not had that desire. Needless to say, I have had many opportunities to test it over the holiday season. The Emotional Freedom Technique has been very helpful but more importantly your caring, warm manner, even over the telephone, helped me to trust you and feel comfortable working with you. I hope others will have the same experience. You are a wonderful coach and very passionate about helping others.
"My experience with Andrea's 'Craving Zapping Program' Teleclass series has been very positive. My craving for Bunny Tracks ice cream nagged me night and day . When Andrea asked me to rate my craving for this luscious treat, I told her at least 25 on a scale of one to ten!! 

She had asked that we bring a sample of the food to the class. Together, we did several rounds of tapping centering on this craving. I wanted this ice cream out of my life! This class took place in January 2006. To date as of 10/2019,  I have not had a single craving for Bunnie Tracks or any ice cream."    
Foods that I thought I liked, I don't like. I really don't! When I actually focused on their taste, and smell and focused on what I was eating… it was amazing. Foods that I would have eaten before and not thought anything about, I don't like them anymore. I'm getting to the point where I won't eat anything I don't want. I just won't eat it if I don't love it. 
"Working with Andrea gave me many great tools to use to break the dieting cycle. If one tool doesn't work for you she'll pull another one out of her never ending arsenal. Andrea is a truly caring person who really wants you to succeed in her programs. You'll really feel like you have a cheerleader on your side rooting for you all the way.
"Andrea, The Juicy Woman is amazing, encouraging, supportive & an expert I can trust! Her enthusiasm for EFT-the tapping vanquishes your unhealthy-grab & gobble eating styles! Hey, I love ice cream-she doesn't say foods are no-nos. Through intuitive eating I'm relearning what my body wants…I'm taking the next Losing Weight Without Dieting Program-know I missed lots! Want more support! Thanks, Andrea!" 
"I dropped 76 pounds in total. I wasn't sure exactly what to expect, but have been thrilled by the results that I have achieved so far; dropping 40 pounds since April. Without a doubt, I believe that this 'shift' in my perspective has come as the result of a personal revelation I had during one of Andrea's class sessions.
Uncovering the limiting belief that food was the only 'thing' that I believed I could always depend on, (even more so than the people who loved me), made me realize why I had felt so powerless to change my relationship with it before now. Or even want to. I used food for everything; to celebrate, to commiserate, for a quick energy burst, for comfort – it was there for me 24/7 365 days per year, how could anything else replace something so perfectly all encompassing.
On further examination I realized that much of my eating was done unconsciously. Andrea's class woke me up in more ways than one."
"Andrea is as passionate about empowering people as she is compassionate with them. There have been many days when that cynical little voice in my head left me hesitant and inactive. Andrea was genuinely non-judgmental and supportive, I felt validated. She's who you want on the other end of the line when faced with a hurdle. With Andrea, you'll discover that you can trust yourself." 
"As a recovering cancer patient, Andrea Amador, the juicy woman, holds a special place in my heart. I had just wanted to give up, after having both ovarian cancer and breast cancer with yet another biopsy to face. In an NLP class when she offered to be my coach. 

I started working with her by attending her free Juicy Woman Party Calls where we learned about emotional freedom technique (EFT) tapping to lose weight. Even though I wasn't so sure that this would work for me, I found her words, kindness, and ideas were a huge support to me in many ways, more than I can count. 

For beginners, I noticed I started caring more about myself and thus, took more interest in the environment I had been living in. I once more started making my bed, washing the dishes, and actually started looking at my bills and sorting out the mail every day. Hurrah! Progress continues almost daily. I am actually catching up with taxes, and applying for financial assistance as I play the tape daily that she made for our class. 

Perhaps, even more important, one day I realized I looked attractive and got dressed for myself. I don't think I even did that before cancer. 

In working with Andrea, I find really important changes happening. I am eating better, dealing with depression that kicked in with chemo and getting to some of the root causes that I believe contributed to the cancer that I had. Since it is so important to me now to find the best support I can to live in a good and healthy way, I am grateful to have Andrea as part of my support team and do recommend her to others. 

Having had cancer has had a profound effect on me and I am determined to make every day count! The challenge to return to a full life, at times, has been overwhelming. There have been steps forward and sometimes setbacks. Andrea, with her support and support groups for changing one's life as well as the tools and resources she offers has clearly helped me make giant steps forward with excitement and fun. 

Thank-you Andrea for all you have given to me." 

Sincerely,
Dr. Clair Rubin
I want to thank you so, so much. The weight is just dropping off. Now whenever I look at anything I put into my body, I ask myself, "What do I really want?" I might have that warm apple pie and I'm going to put the whipped cream on it and I'm going to really enjoy it. You took the badness out of it, Now I know that I can have that, I'm going to have it and I'm going to enjoy every bite and I'm not a horrible person for doing it. Now I don't want two pieces of pie because I ate it so fast. I'm satisfied with one.
"I had some birthday cake and it was very delicious, although the frosting was too rich. In the future, I think I may be scraping off and sampling it first before I take a big bite of frosting and that would do. I'm learning to eat these things without feeling guilty and it doesn't take away from all the good things I do. All the intuitive eating. I haven't blown it because I had a piece of cake. You know how you get that mindset, "Well I had that so, I might as well… I don't feel that need. I just say, "I had a piece of cake. I enjoyed it tremendously and move on. It was wonderful. I stop when I'm full.
Now that I know that I can eat as much as I want of something makes me not even want it. If I pack myself full enough that I'm going to explode that's not what I want. That's not what I want from food. I want nourishment. I want energy. I want to feel healthy.
Most of my life I thought of sweets as a reward and when I wanted a reward I would go looking for sweets. Now I think that healthy food is an even better reward–like fruits. I still have my sweets, but now they're more in the form of summer fruits, things like that. I still love my ice cream. Wouldn't give that up, but it's different now. I have chocolate in the house and I don't touch it. Just the thought of overeating makes me nauseous."